Take advantage of coming to Lisbon to get to know a more sustainable city. Peggada helps you with this mini-guide.
The Web Summit is coming. It is like a technology rollercoaster that comes to Lisbon for four days. As there is life beyond conferences, pitches, and new ideas bubbling up, we take the opportunity to show you everything you can know in the city so you have a more sustainable stay.
In www.peggada.com you find the directory of all the sustainable businesses in the city and which ones are closest to you. From restaurants to hotels, bulk shops to second-hand clothing stores. You're not going to miss anything.
We give you here a mini-guide with a suggestion of each category present on the website so that you can walk through the city always leaving a greener footprint.
Bulk Purchases
On this topic, there is no way to escape Maria Granel, the first bulk store of biological products in Lisbon, which now has two stores: one in Alvalade and another in Campo de Ourique. There you can find anything from teas to spices, pasta, flour, and dried fruits, as well as all the paraphernalia possible for more conscious purchases. A newcomer in this category, is Pistácio. Just opened between Cais do Sodré and Santos, it is the paradise of vegan groceries. It sells products such as nutritional yeast and even vegan cheeses that can be cut as you need as you require that are usually difficult to find in bulk.
Restaurants
It is already possible to eat well in Lisbon, with the knowledge that on the other side they also care about saving the planet. At Gambuzino, for example, the greens come from the Fruta Feia project, the drinks to take away are only served in reusable cups and, in addition to all this, they prepare some of the most famous vegetable-based burgers in Lisbon. Attla follows the same trend where the ingredients are sourced from local producers who give priority to organic production and as a result its nature that dictates each week's menu.
Second-hand clothing stores
Looking for something for a post-conference dinner, an evening out, or simply to have an option that, escaping fast fashion, helps complete your closet. At Flamingos the clothes are vintage and sold by the kilo, with a special focus on pieces ranging from the 40s to the 90s. In the vicinity you can also find A Outra Face da Lua, a store that also sells vintage clothing but wants, above all, to promote another form of consumption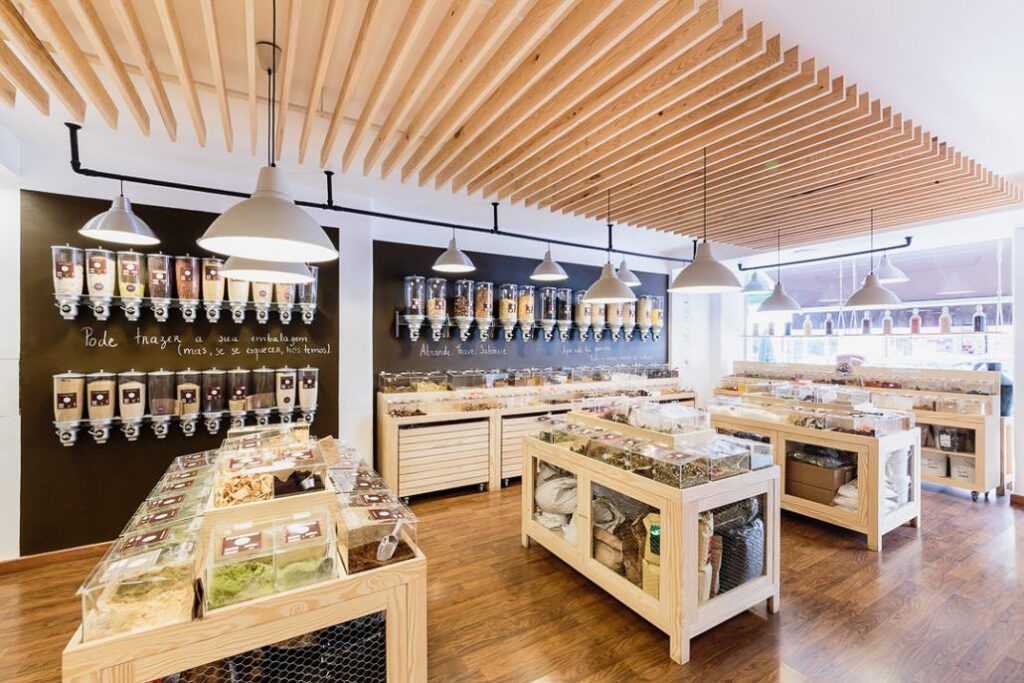 Accommodation
Even when sleeping we can be more sustainable. Especially if we choose to stay at Impact House,an accommodation where everything was designed to save the planet and encourage sharing. In the center of Lisbon you also have NEYA Lisboa Hotel, with all its activity guided by an efficient management model and huge respect for the environment and society, through environmental, economic, and social responsibility policies. It was awarded the Energy Globe Award in 2020, an international award in the sustainability sector.
Eco Stores
We do not want to encourage consumption here, but we want to tell you that if it is essential to buy something, that this purchase is made in conscience. In Fora do Saco, for example, you will find several products that aim to avoid packaging in plastic, as a whole line of hygiene products in solid version. At Green Beans, near Bairro Alto, there is everything from food products to clothing, footwear, and kitchen or bathroom products that will allow you to save a few plastic packages.