She is a nutritionist, a vegetarian, and has just released a book that teaches us how to eat well, taking advantage of what is in season and not wasting what is important. Here is our conversation with Ana Isabel Monteiro, better known as Laranja Lima.
She is one of those nutritionists who doesn't just eat lettuce or preach morals in the form of a cracker. Ana Isabel Monteiro, who we all know as Laranja Lima is a fan of the well composed, colorful, nutritious, and full of flavor dish.
In addition to all the tips she shares on her Instagram page, she has now released a book, "Vegetariano nas quatro estações" (Vegetarian in the Four Seasons), which teaches us how to cook with what nature gives us.
In a conversation with Peggada we talked about food, of course, waste, babies, and how we can always do more for ourselves, our health, and the planet.
What was your motivation for becoming vegetarian?
Essentially, the animals. It's been almost 4 years. We had adopted Lima (my dog) and it made me a little confused to love that little being so much and to be eating others, of other species. So I decided to stop eating "chicks" and it was a matter of days before I really gave up meat and fish.
Since you became vegetarian are you also more aware of environmental issues, or was it this concern that led you to adopt new eating habits?
It didn't weigh on my decision at the time, but I'm much more aware of it, yes. I think we all should be, actually. Vegetarian or not!
How can vegetarian cooking be more environmentally friendly?
Legumes are the stars of vegetarian cuisine, being very rich in carbohydrates, fiber, protein, iron, and zinc, among others. Now, to produce 1kg of beans we use 1/4 as much water as it takes to produce 1kg of beefsteak. That alone gives us an advantage. Then there are other factors that are not only typical of vegetarianism, but which also help: using food from root to branch, preferring seasonal fruit and vegetables, the cooking methods themselves, such as stews… all things that save the environment.
What anti-waste methods do you use in the way you cook and eat?
I always try to use the whole of the vegetables. Pumpkin in soup, for example, goes with the peel. The same for carrots, potatoes, zucchinis… I also use everything from broccoli and cauliflower, including the thicker stalk and leaves. I also like to freeze onion peels and then make a broth, for example. And in fruit I just don't eat what I can't, but in some recipes I use banana and orange peel as well.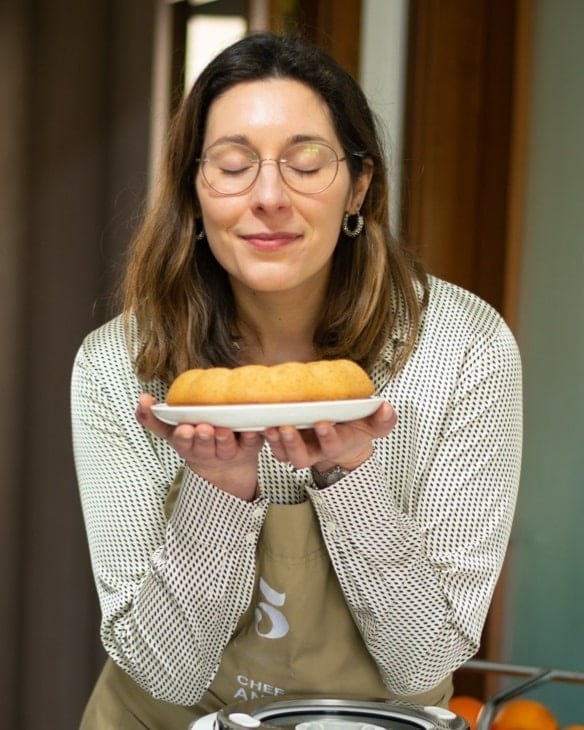 In your book you talk a lot about meal planning. Is it a way to eat better and avoid waste at the same time?
No doubt about it! Because you buy only what is necessary and cook the right amounts too.
Tell us more about your book. How was the process of organizing the information and choosing the recipes?
The first theoretical part starts by dealing with vegetarianism in the world, then in Portugal, and then we go deeper. The information is almost funneled at the detail level. Already the recipes are organized by season, because this is how food makes sense to me: to follow the rhythm of nature. Within each station we find 5 recipes for breakfast and snacks, 10 for main courses, and 5 for desserts. Not all are what you would expect from a nutritionist perhaps, because there are some that are more gluttonous. But that to me is what healthy eating is all about, this room for balance.
Why did you decide to divide the recipes by seasons?
Because I believe that nature gives us what we need, when we need it. If we think about summer fruits, for example: we have strawberries, melon, watermelon… all of them have a high water content, which will help hydration in the hottest days. On the contrary in winter we have fruits rich in vitamin C, such as kiwi and orange, which will prevent colds and flu. In addition, seasonal food is more economical, more nutritious, and more environmentally friendly.
Do you have a favorite recipe?
I am very proud of all of them, but I love the banana and strawberry pancakes, the sugar-free banana and chocolate cake, the gnocchis with tomato and coconut sauce with potato peel, the bean and sweet potato chili, and also the azuki bean pie.
You have recipes where you use the whole food, like the banana or the orange. Is it proof that we discard more than we need to?
Yes, although these specific cases are more difficult to replicate in everyday life. But I have the vegetable stock that is then used in the mushroom risotto. And crispy potato peelings. I find these examples more replicable in everyday life.
In this transition to vegetarianism, there are also those who choose to consume more processed products or use tofu/seitan as a basis for meat/fish substitution. What advice would you give these people?
As for tofu and seitan I don't see a problem, because they are minimally processed foods. Even we can do it at home. As for those food products that try to imitate meat and fish is that I think we should have some attention and use only sporadically. Not just for the health part, but for the wallet.
Since you became vegetarian, have you been sought out more by people who follow this type of diet?
Undoubtedly. I would say that 90% of my patients are vegetarians, vegans, or people who want to reduce their consumption of animal products.
Do you think that health professionals, in general, are not prepared to follow vegetarians in the same way they do those who have a more traditional diet?
I want to believe that health professionals will keep up to date at this level, even because we know that the number of vegetarians in Portugal is growing.
You spent a pre-conception, pregnancy and postpartum as a vegetarian. Have you had to hear a lot of comments from people who doubt it's possible, or does the fact that you are a nutritionist serve as a shield?
Fortunately I didn't hear comments at that level, also because I surrounded myself with professionals who understood. My obstetrician was a vegetarian, for example. But even at the health center I was respected. I want to believe that not only because I am a nutritionist.
What footprint do you want to leave this planet?
I want to leave a world where my child can grow up free and healthy. It's hardly going to be a better world than we have now, but we're still on time not to do any more damage .