We know that, just like us, there are hundreds of other projects wanting to do more for the planet. We went to find out more about what drives them and what we can expect from their project. Once a week, one startup, one interview, five questions.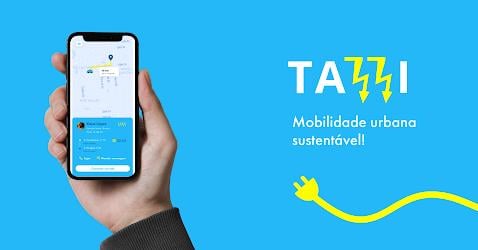 We met Luiza Leme, co-founder of Tazzi, a Portuguese startup for sustainable shared mobility, which distinguishes itself by exclusively offering rides in electric vehicles.
Drivers are entitled to a personalized map with the nearest charging points within a 5-kilometer radius, so that traveling on the electric is made easier while deconstructing the myth of charging difficulty.
What problem is your startup solving?
Tazzi was born with the purpose of collaborating with the reduction of CO2 emissions in large urban centers and to combat the pollution generated by shared mobility. After all, we all know that the light vehicle sector is responsible for 30% of emissions. We have created a platform exclusively composed of vehicles free of these emissions.
In which countries are you present?
Currently in Portugal, our next stop is Spain, in early 2023.
Why start a business on the sustainability front?
Because we believe that sustainability is vital for a future.
What are the biggest obstacles of working in this area?
We are facing a great obstacle, which is the change of behavior and paradigms. People are settled into their old habits, many are aware that they are acting in an unsustainable way, yet they remain unchanged.
The big industries, such as the oil industry, and the big brands connected to this industry, is also an important challenge that Tazzi is facing.
What achievement are you most proud of as the leader of this startup?
Tazzi today is starting operations in Portugal. We are very happy and little by little winning over our driver partners and passenger customers. We are still small, but with big ambitions. We believe in the future and our mission is to accelerate the energy transition and stimulate behavior change.
What is the next step?
Reach our goal in number of registered users on the most sustainable ride-hailing platform on the planet! And launch our after-trip program.