While walking, cooking, cleaning the house, or while having a cup of coffee. Podcasts are great company, and with these you learn more about the environment.
If you want to know more about sustainability, these Portuguese podcasts will help you decode and discover new ideas to put into practice and will also be useful in making more informed decisions in your daily life.
Communicating sustainability in a light and informative way, the podcasts will keep you company at home, in transport, and even while you exercise or cook a meal.
Conversas com Raiz (Conversations with Root)
Nature, organic products, sustainable business, and conscious lifestyle are just a few themes that paint the episodes of this Conversas com Raiz podcast that serves mainly as inspiration for those who listen to it. The mother project Raízes Mag is taking a break, but you can listen to the 6 conversations available, in which people fighting for the planet share what concerns them and what they believe in.
Azul (Blue)
Azul is the name of the podcast that accompanies Público's new environmental journalism project of the same name. The episodes are released every other Thursday and focus on simplifying complex issues within the environment, the climate crisis, and sustainability.
Do Zero
If you're curious about less wasteful lifestyles, Catarina Barreiros' Do Zero podcast may be what you're looking for. This project already has three seasons and has episodes dedicated to topics such as bioplastics, palm oil, urban mobility, food waste, and even how only empathy can change the world. The latest season includes a different format and concept, bringing science communication in front of the cameras.
À raíz da questão (To the root of the matter)
This podcast was created by Os Fora da Casca where they talk about the whole spectrum of sustainability with those who make it happen on the ground. There are 17 informal conversations to listen to that relate to a variety of topics, from circular economy to youth political participation.
Maré (Tide)
With 17 episodes so far, this podcast serves as a journey through the current deep ocean landscape, providing insight (and listening) into the threats it faces and what everyone can do to lessen its impact at sea. Maré is an initiative of SOA Ocean Hub Portugal and is characterized as a discussion space for a sustainable future.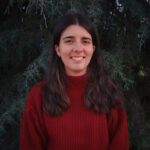 She could have studied Meteorology and Oceanography but ended up going for Communication. And that's fine because if they don't get their weather predictions right, she wasn't the one who would change that. She started by looking for sustainable ideas and projects for her university, and since then, she has never stopped (who stops, really?). She loves to watch series, but she watches few because she is demanding. You don't need much to convince her to embrace new, "greener" habits and challenges.