The marketplace features a climate action hub where anyone – businesses or individuals – can learn about climate issues.
Salesforce, a global company specialized in Customer Relationship Management, launched the first Carbon Credit Marketplace – the Net Zero Marketplace – with the aim of combating the complex construction of a portfolio of carbon credits, presenting as a solution a reliable, secure and transparent site. Connecting consumers and eco-entrepreneurs, this platform allows businesses to scale their positive impact on the climate by purchasing carbon credits.
The Net Zero Marketplace offers a catalog of carbon credits for any company, classified by third parties, thus proving that the projects have real climate benefits. In addition, the platform also features a climate action hub where any person or company can learn about issues
climate.
Christiana Figueres, former Executive Secretary of the United Nations Convention
on Climate Change and co-host of the Indignation and Optimism program,
points out that the reduction of self-generated emissions is no longer sufficient and highlights the
role of carbon credits – these "are a way to encourage further emissions reductions by putting a price on carbon and making an impact in the present, while other climate efforts are also underway."
Carbon credit projects are subject to a series of independent checks against global standards and can include decarbonization practices ranging from forest conservation to tree planting,
wind farms and solar stoves to better farming methods.
Organizations that want to offset their environmental impact can see more than 70 projects described, their alignment with the United Nations' Sustainable Development Goals, and, for many, official third-party ratings.
The Net Zero Marketplace is already available in the US, and is expected to expand to 11 countries in Africa, Australia, Europe, and Latin America by 2023. By 2030, the global voluntary carbon market is estimated to grow to $50 billion, keeping pace with corporate demand for net zero commitments.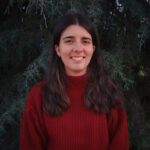 She could have studied Meteorology and Oceanography but ended up going for Communication. And that's fine because if they don't get their weather predictions right, she wasn't the one who would change that. She started by looking for sustainable ideas and projects for her university, and since then, she has never stopped (who stops, really?). She loves to watch series, but she watches few because she is demanding. You don't need much to convince her to embrace new, "greener" habits and challenges.